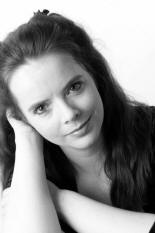 Hi and thank you for visiting the Etoile Domain! I've created the pages on this domain for fun and in my spare time, and it continues to amaze me how many of you find your way to this spot on the internet!
So, you want to find out more about me, huh! Well, what can I tell you! I enjoy dancing (ballroom, latin, argentine tango), reading, photography, working on my website, hanging out with my friends and family, listening to music, watching movies, exploring new countries & cultures as you can see on my travel site!...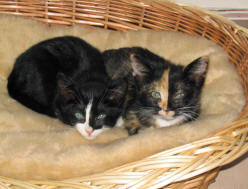 I discovered Buddhism several years ago and am learning and reading up on it, trying to live my life the Buddhist way while keeping an open mind and interest in the many other religions of the world. I share my house with Tux and Roxy, my two cats (see picture to the right, taken when they were about 3 months old). Click on the picture to see more of them :-)
I am Dutch and I was born on the 23rd of February 1969 in a town in the very south of the Netherlands. In August 1993 I obtained an MA in Cognitive Science at the University of Nijmegen, Netherlands (now called Radboud University, Nijmegen). After graduating I lived and worked in the UK for five years before returning back to The Netherlands.
I'm very interested in personal development, which has lead me to NLP. In January 2004 I obtained my NLP Master Practitioner certification and in September 2005 the NLP Transformational Coach certification. In June 2005 I started my own company, Avalon Training and Coaching, focusing on inner and outer beauty. If you understand Dutch, you might want to check out the associated site at http://www.voeljemooi.nl/ or visit my webshop at http://gvoost.oriflame.nl. My international webshop for beautiful magnetic jewelry from Energetix can be found here at http://www.magneticbeauty.com/
My biggest passion, besides my boyfriend, is dancing. My boyfriend and I started dancing together in May 2007. We started competition dancing in November 2008 and are now dancing at the top regionally for ballroom, almost at the top for latin american. We started participating in national competitions in October 2008 and are doing quite well there too. But the most important part of the dancing is the fact that it's something we both truly enjoy doing, and something that we both share. It's not about winning, it's about progress, raising the bar a little higher each time, and having a great time together and with likeminded people. If you'd like to keep track of our dancing experiences (and are able to read Dutch), check out our dedicated dance site! For non Dutch speakers there's some basic information available on DancePlaza.
Brief Resume:
| When | Where | What |
| --- | --- | --- |
| Jan 1994 - May 1995 | University of Surrey, UK | Research & Computing Officer |
| June 1995 - Aug 1997 | Insignia Solutions, UK | Software Engineer |
| Sept 1997 - Nov 1998 | Digital Equipment (now Compaq/HP), UK | Clarify/CRM Consultant |
| Dec 1998 - March 2000 | Cambridge Technology Partners, Netherlands | Senior Consultant/Associate Director |
| March 2000 - Dec 2007 | Cambridge Technology Partners / Novell, Netherlands | Senior Training Manager |
| June 2005 - ... | Avalon Training & Coaching, Netherlands | Founding owner |
| Jan 2008 - .Oct 2008 | Mercuri Urval, Netherlands | Management Consultant |
| Nov 2008 - ... | Interaction Groep, Netherlands | Senior Learning & HR Consultant |
Follow me on Twitter, FaceBook and LinkedIn all at the same time via UnHub